12th Swiss Juggling Convention Resume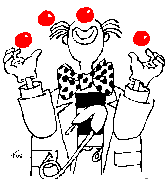 The 12th Swiss Juggling Convention was a big success, with about 250 jugglers from Switzerland, Germany, France, Italy, England, and other countries. It took place from the 3rd to the 5th of July 1998 in La Chaux-de-Fonds, a town near Neuchâtel, in the French part of Switzerland.

Swiss conventions tends to remain simple, emphasizing human contacts over a big organization and many shows or professional workshops.

The public show began at 8.00 p.m. precisely, and lasted 1 hour and a half without any break, with the surprise of the participation of the Russian jugglers of the circus Knie. It was a big success, with a big meal for the actors at the end.

The games lasted from 12.45 to 14.15 with the participation of everybody. It was like a big family meeting.

Here are some of my preferred figures of the convention.
I didn't manage to take a photo of all of them.
From Netscape, Shift click to save the image on your hard disk.
- Achim Villing, a German friend staying in our Geneva juggling club for some months.
- Angelika Stell, a wonderful juggler and our interpreter with the Russian jugglers.
- Bettina Ravaioli, von Zürich. She is one organizer of the 11th Swiss convention in Oerlikon. She helped to organize this convention too.
- Didi von Olten, und Thomas Studer. Old friends from conventions.
- Felix Hunkeler Hinniger alone.
- Françoise Boya and Osama. Françoise is one of the great organizers of this wonderful meeting.
- Heinz Schmid von Gelfingen (Luzern), one of the organizers of the mini convention in September in Hitzkirch.
- Jörg and Andreas, two stars from the public show. I didn't see Jörg for years, it was a wonderful surprise to see him again. He was very helpful before and during the public show.
- Jost and Beat, two juggling convention friends.
- Marcel Bienz von Littau (Luzern), one of the helpers of the mini convention in September in Hitzkirch.
- Marian from Bern. Friend from many years.
- Michel from Basel, our yo-yo master. I learned many yo-yo tricks :o) but forgot half of them :o( Thanks for his participation to the public show.
- Osama, my wife Melinda and I in our garden. I got a new egyptian friend during the convention.
- Osama el Masry, my new friend and a diabolo master. The last act at the public show.
- Pierino Mascetti, the Swiss-Italian speaking juggler, participating with his son to every Swiss convention.
- Res Ryser + Jutta, the main organizer of the 5th Swiss convention in Arbon, near St. Gallen + an Hitzkirch team organizer.
- Res Ryser alone. He helped to organize this 12th Swiss convention. He is still active in juggling and helping organizers of conventions.
- Rico Bandle, the winner of the five ball competition. He is an excellent balls and clubs juggler.
- Roland von Däniken, another juggling friend from many conventions.
- Roman Winiger + Silvian Fluck + ???. Roman is the main organizer of this convention. The two other persons where also organizers of this convention.
- Urs Rohrer, the winner of the 7 balls competition. He is an excellent juggler with small and big balls (football size). Thanks also for his participation to the public show.

New photos added the 25th of January 1999
You can view the 8 images in a very small format
- The big Toss-up 111'648 bytes
- Schorsch Bross unicycling in La Chaux-de-Fonds 94'248 bytes
- Bernard Gisin : The Public Show presentator 31'013 bytes
- Osama el Masri : The diabolo man 36'248 bytes
- Philipp Boë with his devil stiks 29'828 bytes
- The russian group, a wonderful surprise for us 44'540 bytes
- The organiser's team 32'593 bytes
- Bernard in front of the carillon de la Chaux-de-Fonds 31'482 bytes

Please tell me the mistakes I made, in order to help me maintaining a correct page.

Next time I hope to get more photos, since many organizers, helpers, show stars and friends are missing here.

---
Site map : www.juggling.ch

history.html

convention1998.html

---
Last update done the 29 June 2015 by Bernard Gisin